On 8 August 2014, I met Stephanie Chang for an interview about her campaign to represent House District 6 of Michigan and art + culture(s) in Detroit.  Chang won her primary race earlier in the week and agreed to meet at a café in Hamtramck.  The interview provided an opportunity to discuss the relationship between art and public representation at the level of the state legislature.


figure 1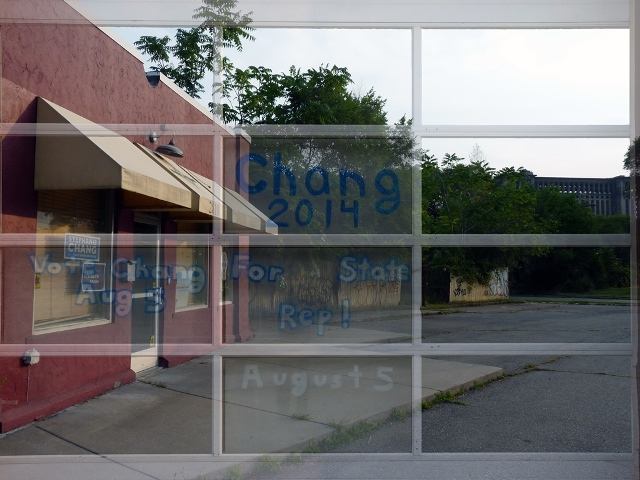 Stephanie Chang for Michigan House District 6 campaign office in Southwest Detroit, 10 August 2014
image courtesy stephen garrett dewyer
stephen garrett dewyer: the sixth district covers Southwest Detroit and an area just south of Downtown.  What sort of affect have you seen art play in the district?  I know a few galleries are in the district.

Stephanie Chang: The district actually goes all the way east to Indian Village and all the way southwest to River Rouge and Ecorse.  So, there's a lot of art in the district.  The most important thing was connecting directly with residents and hearing what people wanted me to work on.  One amazing thing about going door-to-door was I got to see, literally, every single street in the district.  In the district on the East Side is the Heidelberg Project, and, then, Downtown or in Southwest are some of the art galleries. Our campaign office was literally right across the street from the 555 Gallery and, so, we got to become friends with them.  And, then, from there, to really just even seeing peoples' artwork at their houses.  We saw a lot of murals throughout the district.  In certain areas, there were a lot more murals.  And, then, in certain neighborhoods some of the areas that had some blighted houses that had been boarded-up are, actually, painted with artwork.  Especially in Southwest, which was really, really cool.  Definitely, I get a sense from driving around and talking with people and just literally seeing every single street that art plays a huge role.

sgd: what support do you, potentially, see artists living and working in Detroit receiving?  A lot of private dollars go towards art, but some might say there is not a public recourse to how the money gets spent.  Is there anything that you see might happen in terms of getting public dollars spent on art?

SC: So, I definitely know some people who have been Kresge Fellows and that kind of thing and I know there have definitely been a lot of foundations who have put in money to support the arts.  There are several millions of dollars going to support the DIA from the state, so that is a positive thing: to be able to keep the doors open.  We should make sure art is accessible to all.

sgd: I think one of the priorities is education, too, and Detroit Public Schools.

SC: Yeah, as I mentioned, excellent schools, safe neighborhoods and a stronger safety net for everyone: those were the core three issues that we really talked to people about, not just because they are things that I want to work on but because those were the things that bubbled-up as priorities for people.

sgd: would you want to strengthen the art programs in schools and universities?

SC: Yeah.  I was involved in helping start the Boggs School and one of the things I think is amazing about the school is that, despite limited resources, they have managed to prioritize creative expression, whether visual art or different media. They also did a lot in partnership with Detroit Future Schools by creating some music videos and really incredible things, such as puppet shows and African drumming and dancing.  I think that the Boggs School really helps to make the case and point that kids learn in lots of different ways and art is one of the ways we can keep kids engaged when learning.  So, definitely, it's important to me and being able to literally see kids engaging and having fun in creative expression at a school that keeps them wanting to return every single day even when sick and their mom tells them to stay home. I think my time at the Boggs School shows the power of art and, beyond art, teachers who really, genuinely, care about the kids and respects every single one of them.

sgd: right.  You mentioned the DIA.  How do you feel about the turning of the DIA into an independent, non-profit as a part of the so-called Grand Bargain?

SC: So, I think that, obviously, we were at a point where they were potentially on a table for consideration of those assets that could, potentially, be sold.  I am grateful the state and foundations stepped-in to make sure that we keep the DIA and the artwork that is there because those are really, really precious to so many people.  I think if there had been a way to keep it all public that would have been ideal, but, given the circumstances, it was not possible.  So, I think, for me, just making sure that non-profit has a really solid board of directors that is responsible and responsive to the residents who want to partake in that art experience is really important.

sgd: right.  Some of the pressure to appraise the DIA's collection with an eye towards its potential sale came from the Emergency Manager.  Would you work towards eliminating the position of the Emergency Manager?

SC: Yeah.  I have said publicly a couple of different times that I would support a repeal of the current emergency manager law and reverting back to the previous-previous one and hopefully we will get there.  I think, in the meantime, obviously, he is there and we will have to deal with it, deal with the reality that we are in, but, ultimately, I think the law is undemocratic.

sgd: great.  Although there is much discussion about the causes of Detroit's debt, what would you do to try to avoid systemic city debt not just in Detroit…?

SC: River Rouge and Ecorse too.  And, yeah, other jurisdictions across the state.  I think the cause of municipal debt is a combination of things and I don't think a silver bullet will answer the question.  Obviously, I will be serving, unless something crazy weird happens, in the state legislature and won't have direct control over how the city is administered.  But, I do think, the role the state can play that is very, very important is in restoring the cuts that have been made numerous and numerous times over the past decades to revenue sharing and making sure cities have resources that they deserve and need from the state.  So, that's a really big priority to me.  And, then, from there, it is working as a partner and ally to our city departments to make sure that they are working efficiently, but without jeopardizing workers and pensions and things like that.

sgd: right, and, on a state level, Michigan loses around 40% of the recent college graduates1 with a lot of them going to Chicago.  What would you do to try and make Michigan appeal to recent college graduates?

SC: As someone who is kind of in the category of being a young person who is thirty and has a lot of friends from Michigan who decided to leave, some of whom have since returned, which make me very happy, I can say a lot of it is around jobs, obviously.  Even, especially, around teachers.  I have so many teacher friends who have left the state who would be incredible teachers here in Michigan, but we need to make sure that we are respecting our teachers more in the policies that we have and the resources that we provide to them.  But I also think that, as someone who is probably going to start a family in the near future, I do think that it ultimately comes back to what every human being wants: safe neighborhoods and good schools for the kids to go to or their grandkids.  So, for friends in my same age group or a little bit younger and a little bit older, I think for a lot of people the question is 'where am I going to send my kids to school?' although, obviously, some young people moved to Detroit and some young people left Detroit.  And, I know so many people who have the resources and means to look at the quality of the schools as the deciding factor about where they choose to move.  In Michigan, we have failing schools and in Detroit we have to do much, much better in making sure that every kid gets a quality education.  I think the quality of schools is a big deciding factor for a lot of people, maybe not recent college graduates, but people in the mid to late-twenties.  For me, I am very committed, obviously to the city of Detroit but I think there are others who, if they don't have the guarantee that they can send their kid to a good school, it's a hard choice to make.  And I have friends who have decided to move somewhere else because of that.  So, I think that is a big, big issue and I do think that safety is a big issue as well because, again, I just know so many people who have just moved out, young and old, who move out because their car has been broken into too many times and because their home has been broken into many times or because they have seen too many shootings in their neighborhood and things like that.  Ultimately, I think quality education, safe neighborhoods and really basic quality of life issues are deal breakers for a lot of people and will be the deciding factor for whether someone decides to stay or leave.

sgd: what would you do about the crime?

SC: So, there are a couple different things I would want to do.  Some of it is, again, about money.  I do think we have to do a better job of providing resources to local law enforcement.  I am someone who believes in strong police-community partnerships and making sure police serves a neighborhood by getting to know the neighborhood and walking the streets.  I also think we need to invest more in our prisoner reentry programs because, as we all kind of know, we still have a pretty high recidivism rate and, despite the many successes the prisoner re-entry program had in the past, there have been many cuts since Governor Snyder took office.  And, so, I think that is only hurting us because when people come home from prison and can't find a job, don't have a place they can live, don't have the access to substance abuse treatment or mental health treatment, then the all-likelihood points to re-offending.  And, so, I think recidivism as a result of cuts to prisoner re-entry programs contribute to some of the crime as well.  I also think that we need to do a better job supporting some more innovative programs like restorative justice programs and some of the community programs.  This district actually has two: there is a Southwest Detroit Community Court and there is also a street outreach court on the East Side.  Those are two programs that I think are innovative and are replications of what has worked in other places of the country and there is no reason why we should stop there.  We should try to support more programs like that.

sgd: sometimes employers put boxes on job applications to screen for applicants convicted of felonies.  Would you support legislation to ban the box?

SC: Absolutely.  And I know that there has been in the past.  Fred Durhal, who is a current state representative who will be replaced by his son, also Fred Durhal, has introduced legislation around banning the box in the past and I would love to be a part of keeping the movement forward.

sgd: the State of Michigan and the City of Detroit finance mini-grants through the Michigan Council for Arts and Cultural Affairs (MCACA).  Would you support increasing such grants?

SC: Yeah, I think with any budget it's about, and I have not yet experienced the joys of budget negotiations, so many priorities.  And, obviously, my main priorities are education and safety.  Art is definitely something I would support increasing funding to also knowing that there are so many other priorities about which I care.    It is hard to say for sure without looking at specific numbers and specific proposals and before the election.  But, on principle, yes.

sgd: thank you for taking the time to interview.  Lastly, what art do you find interesting?

SC: Well, so, I will tell you this: my husband and I went on our very first date at the Detroit Festival for the Arts.  One of the things I love so much about the festival, although it doesn't exist anymore, which is really sad to me, is seeing some local and some not local artists who are sometimes newer and not yet in a gallery and just being able to see all the different creative things people can do is really, really incredible to me.  So, it's sad because, whenever in the past we celebrated our dating anniversary, we were never able to go back to the festival.  I am not an artist per se, but I enjoy it and have a lot of artist friends in all different forms and I think, for me, one of the things I love to see the most is also seeing kids play around with art and find their own voice through art and being able to express all types of different things through art whether it be visual, music or anything else.


1 Anders, Melissa.  "Brain drain: See what percentage of recent graduates leave Michigan, and why they relocate".  MLive.  30 May 2013. Click here for article.


Go to http://www.stephaniechang.com/ to visit Stephanie Chang's campaign website.